NEWS
|Home|News|Photos|In Memorium|Reunion Memories|Booklet Updates|
Hello dear friends and followers of the class of 1953, Duluth Denfeld High School.
FIRST - REFRESH the page or all you will see is the "old stuff." How do I "refresh" you say? I thought maybe you would ask. Look up at the top left corner. You will see 2 arrows, on pointing back one pointing forward. The icon next to the arrows is another "circular" arrow. Click that! Voila! You are refreshed.
Next - enjoy photos gathered from the Reunion 60 - The Last Hurrah (Ya, right, not this class) and other events held since them.
HELLO EVERYONE! YOUR PATIENCE WILL BE REWARDED. AN UPDATE TO THIS SITE IS A WORK IN PROGRESS! ! !
We are starting off our update with lots of photos.
First up, the last (probably) winter Potluck at Patsy's in January 2015
Three good fellows. Dale, John, and Milt The view of the St. Louis River is beautiful year 'round.
Denny and his lovely Sylvia would agree.
The "Great Room" in Patsy's new home is stunning. The modern decor in neutral colors is gorgeous.

Never have to call these kids to the table more than once. After the party is over, there are still dishes to be done.
Next up, the Spring Potluck at Patsy's in March, 2015
Okay, this is your first test. How many of the people seated at the table can you identify??? We will use Miss Gregory's grading system.
1-3, wrong an A; 4-6, wrong a B, etc.
Here's a hint - 5 of the guests at this event are not classmates, but very loyal spouses,
Decided to leave these photos of the "new" Denfeld here. I know you have all been there by now, but here they are to freshen your memory.
The New main entrance replacing the Tower Entrance The main entry way
The new main office The New cafeteria looking up at the Tower
The New cafeteria just inside the main entrance Another view of the New cafeteria
Stairway in new addition leading to New cafeteria Stairway on opposite end of the upper hallway to cafeteria
New cafeteria from above, food lines on left A new classroom, 3 rooms become 2, all new room numbers
Computer lab, around every corner, down every hall, computer labs Lecture Hall
First floor hallway with new flooring and new lockers New hallway with half-sized lockers
Another hallway with half-sized lockers (for freshmen???) Gymnasium
New text books, perhaps in the library Best known photo of the New Denfeld, Tower through the
skylight along the cafeteria corridor
REUNION 60 - THE LAST HURRAH! ! ! - NEW PHOTOS
This batch is from our gathering at Denfeld that included tours of the updates to the building followed by a great lunch. Oh, and Ken Moran was with us to take the important photo. When I find my copy, I will scan it and put it here - somewhere - stand by.
Denfeld '53ers and their spouses waiting patiently for the tours of the building to begin. First stop are photos of the members of the Denfeld Hall of Fame.
'53 Classmate David Karpeles was inducted in 2009.
Tom Skull, president of the Denfeld Alumni Association leads one of two tours. Off we go to see just what has been done to "our" Denfeld.
Bones, his bride, and Jack's friend, Peggy. Karen, Jan (Ted's bride), and Ted
Glenn and Rodger in the auditorium. Roger, Clyde, Bernie, and Gayle P. Did you recognize all of them?
Shirley, Jean, Karen, Charlene, Lela. Shirley has the answers. Hey, these are new floors, not "our" floors.
In absolute awe of the new classrooms! Or dumbfounded. Carol and Elaine, still chums after all these years.
Lunch is served, Ken and Elaine at the head of the line. Joan and Marion smiling for the camera while Dale waits, and waits, and waits. . .
And then it was off to the Boat dock (after a quick nap).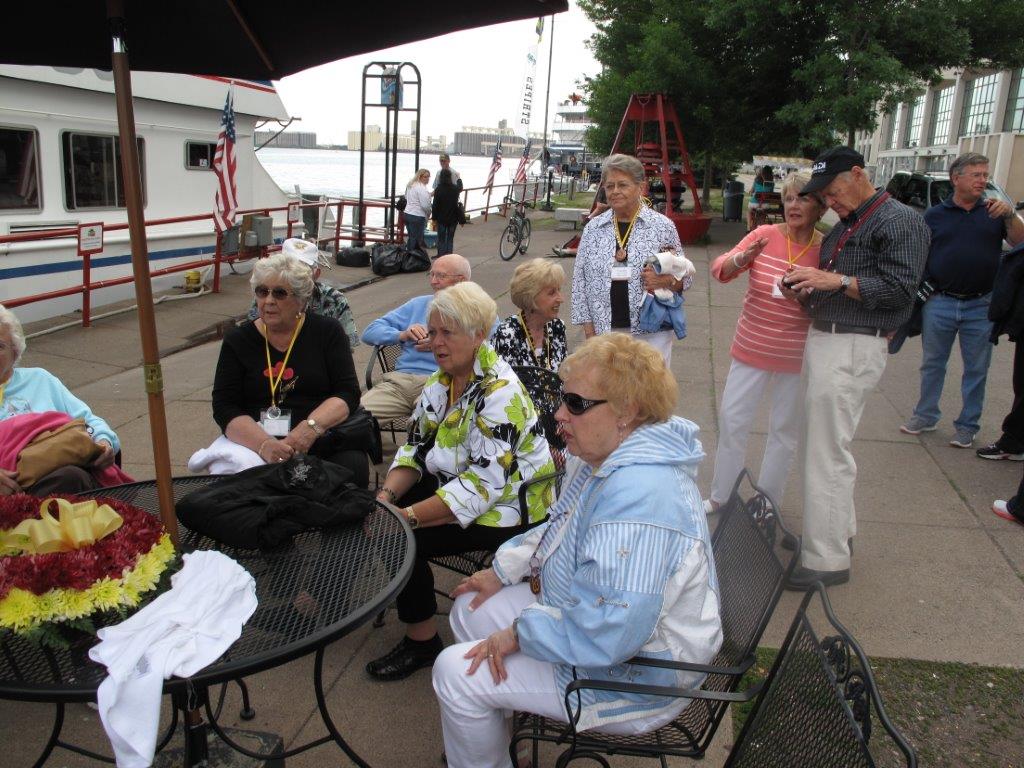 Frenchy, Diane, Babs, Marion, and Joanne wait for loading to begin. Patiently waiting for the boat loading to begin.
Two of our favorite fellas. Class President, Clyde Rogers and Boys Union Claude's lovely Judy and that old Fox, Glenn.
President and Reunion Committee Chair Emeritus, Claude Lutzka.
Mary and John Karen and Louis
The boys, Don, Ken, and John. Roger and Roberta, extra credit for the alliteration.
Ron and Pat Joan and Jean. Yay! more extra credit for alliteration.
Joyce, Mike (of Mike and Marcy), and Marcy. (Ooops almost missed Richard and Barbara
this opportunity for extra credit.)
Charlene and Joan Ardis and Ben
Ethel and Jim Glenn and Kay
There he is! Photog extraordinaire- Milt and his side kick, Howie. And their ever patient brides, Kay and Barb.
The sun is starting to set. . . Len and Gayle P., with Karen and Donna
Super-duper co photog, Jerry. Our sister ship leading the way.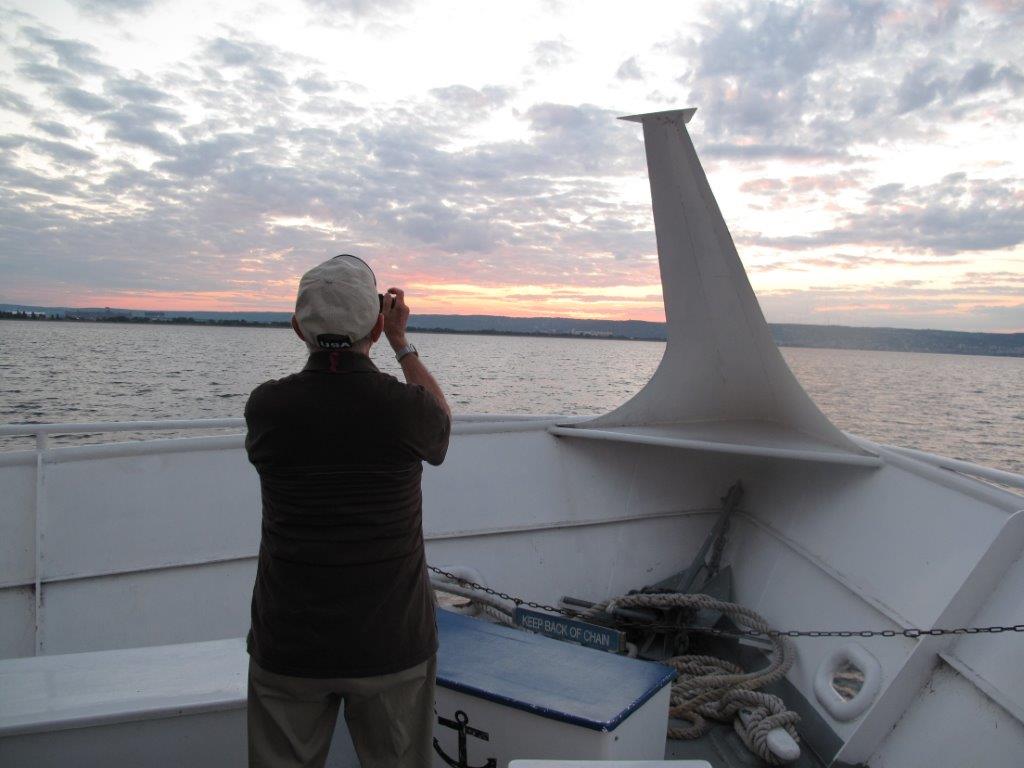 Always on the lookout for the perfect shot. . . And he gets 'em.
Patsy and Milt get ready to toss the memorial wreath, Babs photobombing. Class Pres., Rev. Clyde speaks of the cherished memory of those no longer with us
as Patsy and Milt get ready to toss the memorial wreath into the great Lake Superior.
Not "Red Sails in the Sunset" but pretty spiffy. . . Far off Enger Tower welcomes her kids back to shore.
One last idyllic shot and then it's time to. . . head back to dry land and the real world, but. . . it was GRAND! ! !
And then it was the next day, and the "survivors" Root Beer Float Party at Patsy's! ! !
Here we are, back at Patsy's, our Duluth Home Away from Home. Joannie shows off her door prize with "Hostess with the Mostest," Patsy,
who is hoping she hasn't run out of ice cream. (Babs photobombing, again.)
And yes, another Joannie, excited to be the first door prize winner.
AN ALUMNI SWEAT SHIRT! ! ! YAY! ! !
That's our story and we're sticking with it. We are sure there are more photos out there. If you would like to share then with the followers of the page, send them to Babs at babsfayth@aol.com with your permission to use them on this website. The photos shown above were taken by Milt Hill and Jerry Fitzpatrick and are used with their permission. If you wish to download any of the photos, courtesy dictates that you contact Milt and/or Jerry to secure their consent. Thanks, and there are more photos coming, stay tuned.
Losses
August 2015. On the eve of our 80th Birthday Gathering, we reflect on how grateful we are to be able to gather once again, to enjoy each others' company and to pause, just briefly, to remember those who have gone on since last we gathered. There will be some major vacancies in our group as well as those we might not have known as well as some. Classmates have passed, spouses have passed and children have gone on before their parents. No loss is greater than another. Certainly there is one whose absence will be dearly felt - Claude Lutzka. Claude fought the great fight but, sadly, the Big C took him on June 14, 2014. The light around our class is less bright without him. We miss his salty language and his cantankerous (but loveable) personality. Luckily, he left us his dear Judy, who has faithfully been attending our gatherings and reminds us all what a great person he was and how lucky we were to have him. RIP Fearless Leader, Love the General and the Mother Superior and all the kids in your class of '53. We thank you.
These last weeks has seen the loss of two fine men from our class: Glenn Morey, who held a Phd in geology and who was a professor emeritus at the University of Minnesota; and Kenny Erickson, a great guy from Lincoln originally who was a CPA throughout his life. He died in Fort Collins Colorado where he had lived for many years. The sincere condolences of all our classmates are extended to their families and friends.
May 2012 was a very hard month for the Denfeld class of 1953. On May 28 our classmate Rae Janis Nordskog LaVasseur's mother died at the age of 105. Exactly one month later on June 28, Rae Janis' husband Jack LaVasseur, Denfeld class of 1952 died. Certainly a massive blow of sadness and loss for Rae Janis. Our sincere sympathy to Rae Janis as we wrap her in love and support. On May 29 in the morning, in the town outside Milwaukee where she had been living to be near her daughter, our co-valedictorian and Oracle editor, Antoinette Spalacci Seppi died from the effects of Alzheimer's disease. Later that same day, in the evening, our Bizz, Girls' Club president, reunion committee stalwart from the beginning, Elizabeth Boyd Nelson, died the result of an inherited internal condition. Nina's services were held at St. Joan of Arc Catholic Church in south Minneapolis and was attended by Marcie Rendulich Ganucci and Barbara Humphrey. Bizz'z services were held at the church where she had been a member sine her youth and from which her husband Bill's services had been held not so very long ago, Holy Trinity Lutheran Church on Grand and 27th. Very recently Floyd Lahti, husband of our classmate Betty Myrhman died after 53 years of marriage.
It was a fiercely cold Saturday afternoon, February 11, when friends, relatives, and classmates (and spouses) gathered in the chapel at Park Hill Cemetery to say good bye to our dear classmate, Dianne (Boots) Cloutier Anderson, wife of our classmate Roger Anderson. The graveside service had been moved inside due to the wind and freezing temperatures. Following the service a reception was held at Our Savior's Lutheran church hosted by Patsy Munger Lehr. More than a dozen classmates and spouses attended in tribute to this special friend. It was a time of sharing Bootsie stories, laughter and tears. Their 4 children were present to hear the stories of love and adventure shared by special friends and relatives of their parents. Sincere thanks to Roger for bringing Bootsie home to Duluth and giving us a chance to say goodbye.
These recent years have seen the passing, not only several of our classmates, but of those loved ones that mean so much to all of us. Just before Christmas, the beloved mother of our classmate Larry Johnson passed away. Louana Johnson would have celebrated her 98th birthday on January 19. Her passing is a great loss to Larry and those classmates and friends who were able to attend her funeral at Our Savior's Lutheran Church were a comfort to him.
We have also noted the deaths of Arlie Kartvedt Moen (precious best friend of Patsy Munger Lehr); Ray Hammer (beloved husband of Helmi Lepisto Hammer); Robert Kelpatz, Jr. (treasured son of Robert Klepatz, Sr.); Floyd Turcott (precious husband of Caryl Rilling Turcott); Don (Toby) Oie, the dear son of Gloria Moen Oie; we mourn with Alex and Bobbie Sisto the death of his sister and our sophomore class colleague, Shirley Sisto Thibault; the life partner of Ed McParlan, Dr. Nina Kostraba. On December 20, 2006, Robbie Robson (Mr. Wonderful), husband of our dear classmate Joanne Cameron Robson died quietly at home after a long illness; and on March 5, 2007 Dick Seymour, husband of our classmate, Joan Glapa Seymour, died after a long illness. We mourn with David Mohr the death of his sister; Barbara Whitely Engstrom on the death of her brother Mark, Ted Keppers on the death of his sister Rose Marie and Sharon Konsti Doyle on the death of her brother, Dennis. And we must acknowledge the death of our classmate Jack Stauty two years ago as reported by his cousin, our classmate Larry Stauty. Sometimes life's challenges are pretty overwhelming. Just weeks before their daughter's diagnosis of breast cancer, Roger Anderson's sister Margaret Swenson died in San Diego. Margaret loved to sing in her church choir, attend as many dances as possible and was crowned Homecoming Queen prior to her graduation from Denfeld High School in 1945. We recently learned of the death of Dorothy Carter wife of our Classmate, Dick Carter. And just within these last few months, our dear classmate Faye Bjork mourned the death of her husband of 53 years, Ryan Hietala. We have just received word that John Olaf Olson, husband for 50 plus years of our classmate Charlene Wick died on December 27, 2008 after a two year struggle with Mesothelioma. John was a member of the Denfeld class of 1950. We learned of the deaths of Eli Miletich's sister, Barbara, and the husband of Mary Ann LaFlamme, Jim Fitzsimmons, to whom she had been married for more than 53 years. The spouses of several of our class mates have passed away: Charles Fairbrother, husband of Joyce Ekstrom and Gerald Mitchell, husband of Dolores Zacher Mitchell, Bill Nelson, husband of Bizz Boyd Nelson, Albert Poehling, husband of Betty Jorgenson Poehling. In December of 2010 we learned of the death of Wally Brosdahl, brother of our classmate, Harold Brosdahl. Our sincere condolences to those whose family members have passed.
As many of you know, Rudy Monson, a great Denfeld legend passed away after a long illness. Recently we learned of the death of his life-long friend and co-member of that great Denfeld 1947 Basketball team, Paul Nace. Wonder if those guys met up somewhere beyond and are once again shooting baskets. RIP.
These deaths are mourned by us all. Please let me know whomever I may have missed.
Duluth Denfeld Class of 1953, Inc., Board of Directors:
The Duluth Denfeld Class of 1953, Inc., and the Board of Directors technically ceased operation in January 2014 following the completion of everything concerning Reunion 60.
However, this class just doesn't want or know how to say goodbye. So we keep going on and on. We still have a little money left, Milt manages it brilliantly. He and Patsy
collaborate on events such as the winter and summer pot lucks and the 80th Birthday Party planned for August 5, 2015. As long as there is one of us still standing and we have
a dollar left in the till, we will keep on keeping on.
Barbara F. Humphrey, Chairman
Milt Hill, Vice Chairman and Treasurer
Joanne Cameron Robson, Secretary
Directors at large:
Clyde Rogers
Patsy Munger Lehr
Faye Bjork Hietala
Roberta Donaghy Finch
Mary Haug Larson
Howie Larson
Jerry Fitzpatrick
Elizabeth "Bizz" Boyd Nelson (member emeritus- deceased)
Helmi Lepisto Hammer (member emeritus-deceased)
Marilynn Hauer Kessler (member emeritus-deceased)
John Blasack (member emeritus-deceased)
Committee Chairman Emeritus: Claude Lutzka (deceased)
To contact any of the above listed members of the Board of Directors,
Please consult your Reunion 60 class roster for address, phone number, and/or email address.
DHSAA Board of Directors
The following are members of the Board of Directors of the Denfeld High School Alumni Association and their year of graduation from Denfeld:
Denfeld Alumni Association Board of Directors (copied from the Alumni Association web site.)
Adrienne Thureen (Bergquist, 1957)
218-525-5664
adrienne @ denfeldalumni.com
Karin Swor (Henson, 1960)
218-348-5843
karin @ denfeldalumni.com
Richard Swanson (1966)
218-722-0796
swanson @ denfeldalumni.com
Marsha Kelly (1967)
marsha @ denfeldalumni.com
Angelo Florestano (1978)
218-343-7656
angelo @ denfeldalumni.com
Anna Montgomery (Jimenez, 1979)
218-624-3582
anna @ denfeldalumni.com
Kyle Johnson (1988)
kyle @ denfeldalumni.com

Tom Skull (2000)
218-260-5133
tom @ denfeldalumni.com
Reba Marana (2006)
218-940-1413
reba @ denfeldalumni.com
Melody Maleski (2007)
218-343-8877
melody @ denfeldalumni.com

Leadership Committee
Joe Vukelich (1977)
218-628-0519
vuk @ denfeldalumni.com
Bridget Whalen (2004)
218-591-9155
bridget @ denfeldalumni.com
|Home|News|Photos|In Memorium|Reunion Memories|Booklet Updates|
Last updated: August 1, 2015